Well-designed and trained processes can save much time and even more. In crisis situations, they can protect assets or even human lives.  In-company processes are intended for performance of standard actions and approval processes. They also include crisis scenarios of risk analyses.
Which components are included in the "turnkey"company processes support package
Analysis of current company processes.
Proposals for optimization of   key-processes.
Proposals for efficient utilisation of information systems and/or  their modifications.
Exercises to instil corrects habits and routines to the employees.
Practis: Keeping your processes under control
The PRACTIS application is intended for unified and simple administration of company processes incl. testing and training. The training tool helps in verification of the entire procedure and also its alternatives. It also provides assistance in evaluation, with focus on individual staff members and also essential time sequences.
What is Practis
Practis allows simple designing, modification and validation of processes. The  validation does not necessarily mean approval by competent persons but, primarily, hands-on training. During training activities, this application will record behaviour differences as well as time axis of performance of individual process steps and provide assistance in process evaluation and adjustment to guarantee it optimum function.
Providing central overview of all company processes
Simplifying performance of changes in intuitive WISIWYG interface.
Allowing hands-on training before implementation of a new/modified process.
Generating records of every training event and allowing their evaluation.
Generating plausible text and graphic outputs.
Allowing connection of other applications.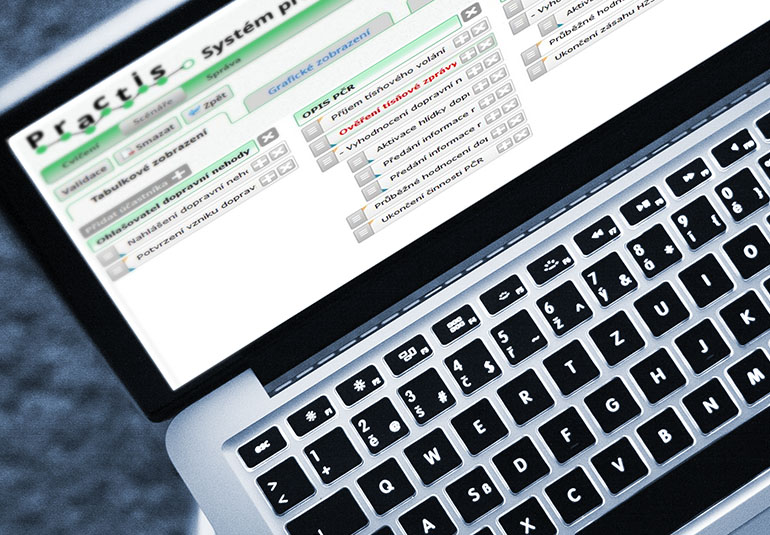 What is the purpose of testing by Practis
Actual verification of correctness, consistency and function of procedures and processes.
Discovering bottlenecks before start of standard operation.
Optimal adjustment of required procedures and processes.
Fixing routine activities, procedures and habits for dealing with current issues.
Better preparedness of the company for dealing with crisis situations.
Strengthening company´s image and competitiveness in the market.