Our expert teams are experienced in dealing with customer requirements, starting from the initial idea, across required analyses up to launching the project. We can enter into a project virtually in any of its stages, regardless actual state of project implementation. The customers will negotiate with one contact person, hence, they have full control over the project and they always know what issues are currently dealt with.
Why customizer T-SOFT information system?
As a rule, customized solutions are required by the customers who are not satisfied with offered standard designs or which requirements go beyond the possibilities of Excel. Should you opt for this alternative, we recommend redesigning the existing configuration of your processes.  New technologies and systems will open up the possibilities of speeding up the processes within your organisation and make them more efficient.
We also understand that development of the new information system provides opportunity for innovation in the organisation and allows it to achieve its goals more rapidly.
Main focuses in building information systems
We consider all needs of our customers.
We guarantee quality, availability and long-time support.
The applications are secured by access authorisations.
Possibility of  interconnection of third parties and data exchange.
We ensure system operation and ongoing upgrade.
We make any  efforts to meet the requirements of our customers. We use their existing data and systems and add our innovative solutions. At the same time, we act prudently and we don´t offer proposals that could impede our clients or making their processes more difficult.
Where our information systems are used
Company Management
Healthcare
Crisis management
Security
Authorities management
Education
The size of our projects
We create and develop smaller applications, but also large national information systems. From 200 thousand to several million CZK. We have experience with greenfield development, but also with the development of systems that need to be integrated into the existing customer ICT environment.
We create applications that are used by tens and thousands of users.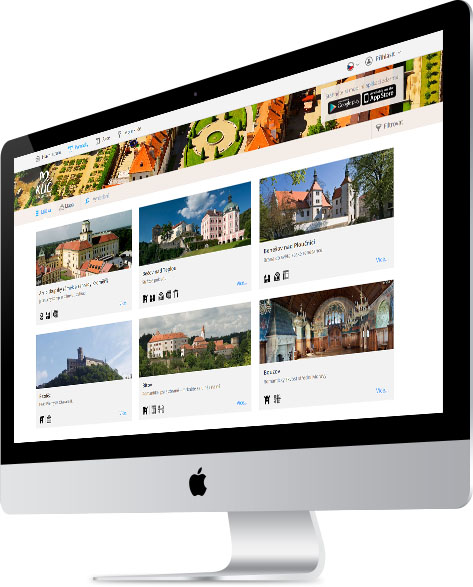 Security
Our information systems solution can not only integrate your data, but also prevent it to be too many in the IT of the company or organization. With our solution you will have the right data in place and ready for your decisions. In addition, we can build exports, statistics and business intelligence over the data.
We deliver projects with completely resolved security. When designing and implementing projects, we focus on user roles, data access and internal system security against attacks from outside the organization. We are also capable to certify applications.
What is the procedure of development tailor-made information systems? How do we approach this issue?
What can the customer expect from us and how will we cooperate with him throughout the entire application development proces?
Processing quotation

Analysis – the first step of implementation

Development

Testing and putting into standard operation

User support and follow-up development

Our team and our methods
Processing quotation
Naše práce začíná již na úrovni zpracování nabídky. Prvotním úkolem je pochopit potřeby a cíle jakých se má v projektu dosáhnout. Tuto prvotní analýzu zajištuje obchodník ve spolupráci s naším konzultantem. Představu zákazníka obohacujeme o naše letité zkušenosti, o nové technologie a o znalosti z procesního řízení.
Analysis – the first step of implementation
Kvalitní analýza je základem nově navrhované aplikace. Pracujeme s ideou vedení organizace, požadavky klíčových uživatelů a také se zástupci IT. V analýzách se střetávají naše zkušenosti z předešlých projektů a možnosti nejnovějších technologií.  Během návrhu nových aplikací se soustředíme také na napřímení procesů, jelikož správné využití moderních technologií zvýší jejich rychlost a kvalitu. Konečný návrh musí vždy perfektně zapadat do prostředí zákazníka se všemi vstupy a výstupy (vazbami) na okolní systémy.
Základními pilíři analýzy jsou  – architektura systému, uživatelské rozhraní, funkce, procesy a vazby na okolní systém.
Development
Nové aplikace nezačínáme vyvíjet o nuly, ale stavíme je na našem Frameworku, který zahrnuje základní funkce a kopíruje světové vývojové trendy.
Vývoj složitějších aplikací zpravidla realizujeme pomocí pilotních řešení, kdy začínáme funkčním prototypem jádra systému a postupně rozšiřujeme jeho funkčnost. Jednotlivé prototypy nasazujeme a ověřujeme v pilotním provozu a funkce přizpůsobujeme potřebám uživatelů. Touto metodou dosahujeme rychlého a efektivního cíle a rychlé reakce na změny.
Testing and putting into standard operation
Testování patří k jednomu z hlavních pilířů našeho vývoje. Následná akceptace zákazníkem probíhá na základě připravených testovacích scénářů. Do ostrého provozu pouštíme vždy jen perfektně otestovanou aplikaci.
User support and follow-up development
Jednou z našich významných přednostní je kvalitní a rychlá podpora řešení uživatelských problémů. Podle nastavených parametrů je řešena e-mailem, telefonem nebo zadáním požadavků na Helpdesku.
Servisní podporu pro běh aplikací zajišťujeme 24/7 i o víkendech.
Samozřejmostí naší práce je i následný rozvoj aplikace dle aktuálních potřeb zákazníka.
Our team and our methods
Stabilní a kvalifikovaný vývojový tým je pro nás základ! Jsou mezi námi vedoucí projektů, analytici, konzultanti a programátoři s letitými zkušenostmi z úspěšných projektů.
Naši pracovníci disponují certifikáty:
ITIL
PRINCE2
TOGAF
Microsoft Certified Professional
Microsoft Certified Technology Specialist
Microsoft Certified Systems Administrator
Technologie
Aktuální trend spočívá ve vývoji webových aplikací, které je možné spustit z jakéhokoliv webového prohlížeče na světě. Taktéž ale vyvíjíme desktopové aplikace, které má uživatel již nainstalované ve svém počítači.
Naše produkty je možné provozovat na podnikových serverech i v Cloudu.
Řešení pro zákazníky umíme postavit na technologiích open source i komerčních. Vždy volíme podle možností a ICT standardů zákazníků.
Výčet technologií:
Oracle Database
Microsoft .NET
Microsoft SQL
PostgreSQL
Java