CASSANDRA – Business resilience

Are you small or medium enterprise (but not only), have you heard about business resilience, risk management, security and business continuity planning to mitigate risks? Would you like to solve these issues and you do not have too much money for that?
CASSANDRA is here for You …
How can CASSANDRA help you?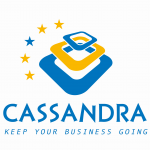 CASSANDRA is a set of online tools which enables you to assess your company resilience against threats via "Quick check" consisting of 21 questions. Based on your result you have the possibility to download the "Guide on Business Resilience" and/or pass "Online course".
CASSANDRA will guide you through examples and practical exercises and will help you to create risk management in your company and assess your business resilience, minimize or neutralize risks and create necessary business continuity plans.
Participate in CASSANDRA testing
Are you manager, owner, employee of small or medium enterprise in services (but not only)? CASSANDRA is open to everybody. Participate in testing and help us to improve the tools. Just send an e-mail to address of our partner info@emcra.eu with your name and keyword "Business Resilience – Beta version access request".
CASSANDRA project partners
CASSANDRA project is financed with support of European Commission within ERASMUS+ program. There are 6 partners cooperating on the project from Germany, Italy, Greece, Cyprus and Czech Republic.

Back to articles
More articles from:

Corporate use

Are you small or medium enterprise (but not only), have you heard about business resilience, risk management, security and business continuity planning to mitigate risks? Would you like to solve these issues […]

Read more